"Arise now, arise, Riders of Théoden! Dire deeds awake, dark is it eastward. Let horse be bridled, horn be sounded! Forth Eorlingas!"
—Théoden, The Two Towers
The Assembly Point is a unique Rohan settlement building, allowing your troops to heal without having to return to your main base or outpost.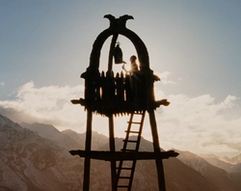 Upgrades
Edit

Arm Rally Point - Mans the tower with a defensive archer (cost: 300)
Function
Edit

The Assembly Point functions like a Well, healing nearby allies when out of combat. Once its upgrade is purchased, it also becomes a defensive tower, increasing its usefulness and strategic value.
Strategy
Edit