"News are as wizards, they are never late nor early, they arrive precisely in the moment when the Edain Team means to. And I'm sure that the Edain Team has an exact plan, so it is useless to urge them. Because, it is done when it is done."
—FG15
Presenting all the wonderful people who, through their time and effort, have brought us this magnificent mod. But first we wanna say "Thank you" for allowing us to share pictures from and out of the Mod. Check out the rest of the wiki for this glorious mod here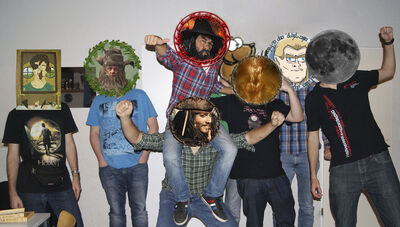 The Team
Edit
AI: Reshef, Lord of Mordor (team leader), Ealendril der Dunkle
Beta Tester: Chu'unthor, Prinz_Kael, Elendils Cousin 3.Grades, Hüter, Amdir, Fili, Fine, orkanelf, Photti, hoho96, DieWalküre, EliteKryptik , Fredius, RuudDevil, >Darkness<
Balance: Lord of Mordor, Ealendril der Dunkle Elendils Cousin 3.Grades
Balance Tester: Prinz von Dol Amroth, Mandos,  Lordrush der Beherzte, Rohirrim, ¡KT!, Skeeverboy
Campaign / Maps: FG15 (Second in command), Gnomi, Reshef, Trapper
Codes / Scripting: Ealendril der Dunkle, FG15, Lord of Mordor
Contact persons: Ealendril der Dunkle, Lord of Mordor, Simbyte, Gnomi
FX: Ealendril der Dunkle
Game Design: Lord of Mordor, Ealendril der Dunkle
Installer / Launcher: Turin Turumbar
Models / Animations: Ealendril der Dunkle, Thorongil03, Radagast der Musikalische, Joragon
Skins / 2D Graphics: Adamin (inactive), Ealendril der Dunkle
Translators: English: FG15, Nightmaster, Lord of Mordor, Simbyte, Martin, Trapper
Video Team: Prinz von Dol Amroth
Website Administration (www.modding-union.com): Simbyte
Useful Resources to Contact The Edain Team
"The Beacons are Lit! The Beacon of Amon Din is lit!"
Official Edain Team YouTube Channel

ModdingUnion.com http://www.modding-union.com/
Very Special Thanks for the Support of:
EA Community Team
Moddb ( www.moddb.com )
Cirdan and Herr-der-Ringe-Film.de ( http://www.herr-der-ringe-film.de )
Ravencrest and HdR-Seite.de ( http://www.hdr-seite.de )
HDRHQ ( www.hdrhq.de )
SuM-Fanpage ( http://sum.onlinewelten.com )
German Gaming Magazines PCGames und PCAction
HdR Inside ( www.hdr-inside.de )
The entire Modding-Union Community
Special
Thanks to our Former Members and Supporters:
ernesto-m, Vexor, The Dark Ruler, Lars, Sturmkrähe, Anatarius, Perseus, Joe-Galad, Rabi, Harvest, Alien aka Infiltrator, WOA aka Witchking of Angmar, Finrod, Doggy aka Ghostface, Funnydevil, Aragorn999
Many Thanks for the Support and Contributions of the following Mods and Modders:
Mods
DsuB - Die Schlacht um Beleriand: (Herunor, Hatacatan), Elven Alliance: (Celeglin), Elvenstar Mod1: (Manuel2811, Firmus) Death Animation of the Dwarven Rams: (NDC), Four Ages: (Morgoth615), HDRHQ: (Buccane), Graphics: ((Palland)raschi), Legends: (Christian Beltramo), Launcher Music: (Forhir), Launcher UI: (magickoala), RJ_RotWk: (Robert Johnson) SEE - Special Extend Edition: (Sûlherokk, Nazgul aka Chriz) SweetFX: (CeeJay) T3A GiveAway Mirkwood-Soldier: (NewErr)
Modders
Unnamed Mods: (DiegoDelaVega, Eldarion, Kadafi, Nertea, Nightmare, NukeDN, The Dead Player, Wars of Arda, WK)
Thanks to Members of the Edain-Community:
English Translation          
Nightmaster, Libom, Fin12345, EvilBuggie, Fingolfin , Radagast the Brown, Minewald, Alter Tobi, Wulfgar, Amdir, Numenorean, Rogash, Elendils Cousin 3.Grades, Thartom, HerrscherSeuchenmarines, Lord Sauron der 5000., GeisterbeschwörerRadagas t, Der dunkle König, MCCL, Palleon, Lord Eddard Stark, Leander
Maps
Fornost Edain: Tar-Dingens
Sounds
Lord-Alex, Wulfgar, MCM aka k10071995, PumaYIY, Tar-Palantir, Halbarad, Kili, Lord of Arnor, Melkor Bauglir, Rumil89, RadagasttheFool, SnobGoblin, LordDainIronfoot, Gimilzar, CragLord          
Sounds and English Translation
Hüter, Tar-Palantir, Shagrat
Sounds and Graphics
Arador            
Trailer and Teaser
Caun, Gepetto
Thanks for the work of the Edain Forum Moderators:
CMG Prinz_Kael
And Thanks to Norgur
Norgur  (????)                                        
And All Those Who Helped With Edain Mod
Ad blocker interference detected!
Wikia is a free-to-use site that makes money from advertising. We have a modified experience for viewers using ad blockers

Wikia is not accessible if you've made further modifications. Remove the custom ad blocker rule(s) and the page will load as expected.