Recruit the mighty Phalanx of the Iron Hills as portrayed in the movie. This unit causes small blade damage to enemies besides its pike damage.
Formation
Edit
Shield Wall - The Phalanx gains +20% armor and damage but loses -40% speed.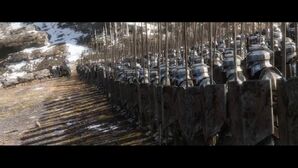 Upgrades
Edit
The Phalanx of the Iron Hills can be given the following upgrades:

Banner Carrier - This upgrade can only be given to a level 1 battalion and will promote it to level 2. At level 2 the battalion can regenerate fallen units.

Forged Blades - Increases the damage of this battalion against:

Heavy Armor - Increases the armor, hit points and damage resistance of the unit
Strategy
Edit
Ad blocker interference detected!
Wikia is a free-to-use site that makes money from advertising. We have a modified experience for viewers using ad blockers

Wikia is not accessible if you've made further modifications. Remove the custom ad blocker rule(s) and the page will load as expected.