"Thousands could dwell there [in Isengard], workers, servants, slaves, and warriors with great store of arms; wolves were fed and stabled in deep dens beneath."
—The Two Towers
The Warg Pit is an Isengard building where Saruman breeds his ferocious Wargs to hunt down his enemies.
Level Up Upgrades
Edit
The Uruk Pit, Warg Pit, and Siege Works can all be leveled up at the same time by purchasing the following upgrades at any of the three structures:
Machinery of War Level 2 - Grants level 2; gives +1500 HP and +20% build speed; unlocks new units or upgrades
Machinery of War Level 3 - Grants level 3; gives +1500 HP and +30% build speed; unlocks new units or upgrades
Function
Edit
Unit Production Edit
| Name | Type | Cost | CP | Strong vs. | Shortcut |
| --- | --- | --- | --- | --- | --- |
| Warg Riders | Cavalry | 400 | 90 | Swordsmen, Archers | Y |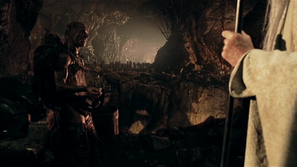 Upgrades Edit

Blood Wargs - Enables Warg Riders to train their mounts into Blood Wargs, which regenerate health when they attack.
Cost: 400
Requires Level 3
Strategy
Edit
Ad blocker interference detected!
Wikia is a free-to-use site that makes money from advertising. We have a modified experience for viewers using ad blockers

Wikia is not accessible if you've made further modifications. Remove the custom ad blocker rule(s) and the page will load as expected.